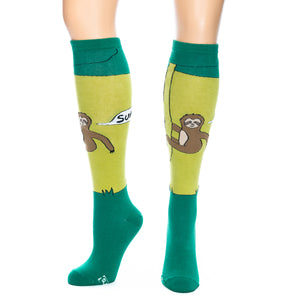 Sup Sloth
When you're a sloth, you've got no time to spare, everything takes you ten times longer then everyone else in the animal kingdom. So when you run into a friend while leisurely climbing a tree, neither of you have the time for you to say "Good morning old friend, how are you doing today?", when a simple 'Sup?' will do!
75% Cotton, 20% Polyester, 5% Spandex. Made in Korea.
Approximately fits women's shoe size 5-10.
---
We Also Recommend